Below find works that are nearing completion for edition release - as well as works that are mere concepts waiting for their moment to come. Often works can take no time at all to complete it seems. Since I sell my own editions I prefer to strike when the iron is hot so to speak - meaning that often I put projects on hold. I have sculpted some works very quickly and left other sculptures to languish indefinitely.

Most of this page is a summary of years of blog posts, it would be too complicated to link to every mention but for more in depth details and discussions, see my studio blog and of course the comments.

Scaling up or down works now with techonology takes very little time at all. Mostly I have scaled down works but I'm looking forward to utiliziing this technology to grow a sculpture rather than reduce in size. For now one project I'm working on is scaling up a work using measurments rather than technology - it's much slower and loses accuracy of course, but it's free techology.

A Little About The Creation Process

So there is always a "story" that's behind what compelled me to create a horse. Sometimes that story is a bit hard for me to verbalize - chatty as I might seem! For me it's often more the need to create some kind of exciting energy or personality trait.

See the sign-up form on the left column of this page below the site links.

You may sign up using the form offering several options for which ever work you would like to receive email updates on. Aferwards, don't forget to confirm your subscription or the service won't sign you up.

I intend to use this service only to let you know of specific sculpture news. As a backup to my yahoogroup mails OR as an alternative notice for those who don't do yahoo.

To activate your newsletter subscription you will need to verify the confirmation email. Once you click on the link, you will eventually get notices when items are actively for sale, and only when they are for sale. This could literally be years down the road in some cases.

Also, if you selected one of the "all" options I plan to occasionally post offers of seconds, painted resins (by me) and of other new sculptures. These are infrequent and should not clutter up your in-box! Please note that your privacy is my utmost concern. This service has promised me it will not share your information with any other company or organization.

Please note that your privacy is MY utmost concern! This service has promised that it will not share your email subscriber information with any other company or organization. All future emails from them allow for you to "Opt out" by using the "Unsubscribe" link at any time. If you have any questions or concerns please email me at morgen@one-horse.net; artbymorgen@yahoo.com .
---
10 / 7 She is now up for sale here!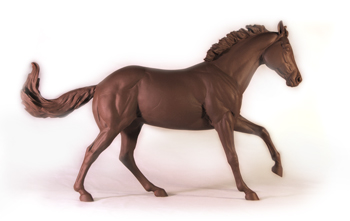 8/31 Still needs veins but I'm pretty happy with how her details are turning out now that the final primer coats are going on.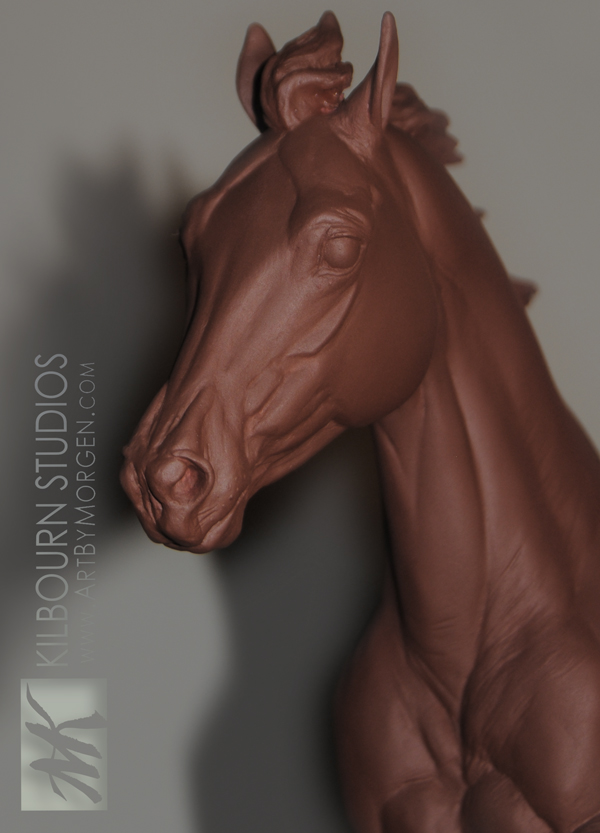 8/29 photoshop testing short mane for alternative version. I may go this route & offer up a shortened version, I remain undecided. It's easy with resin to simple trim down the mane. Having 2 different molds running is complicated and expensive if there isn't enough call for one or the other version. On the fence. I *do* like the look though, more traditional QH shape to me! However now they seem to going towards a longer mane style.... like I said, just on the fence right now. Happy to take any input!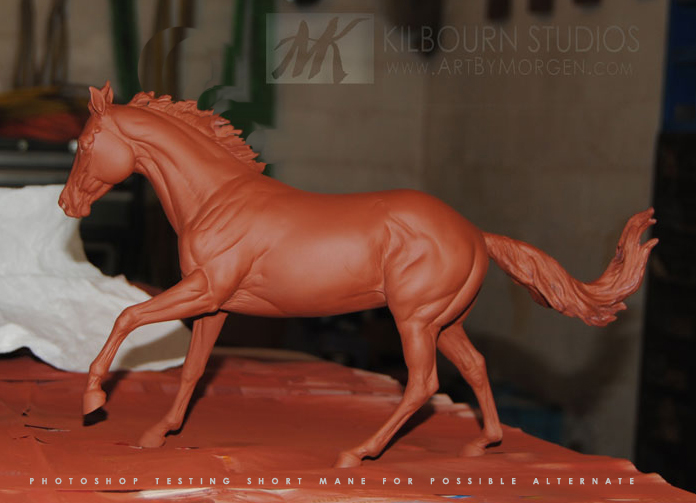 8/4 testest out mane to fit under my largest skirted minature western saddle and ease of slipping on a fully tightened/fitted breastcollar. Important points for my customers! Both worked nicely with my pose and mane -> I do want to make a tiny bit more clearance under the mane for larger saddle pads but I can keep my vision as is. I have baked the polymer clay and have moved on to finer refinements & measurements (balance and symmetry). Some muscle groups are still getting defined/placed as appropriate to a mare of her power and strength! Note that working in polymer clays you bake is newer to me but saves me an expensive step of casting the clay - it's also fun to work in all sorts of media as commercial work sometimes requires you to adapt as well.


(below) Early on in the process, long before clay was baked - see also all the videos of her stages below this!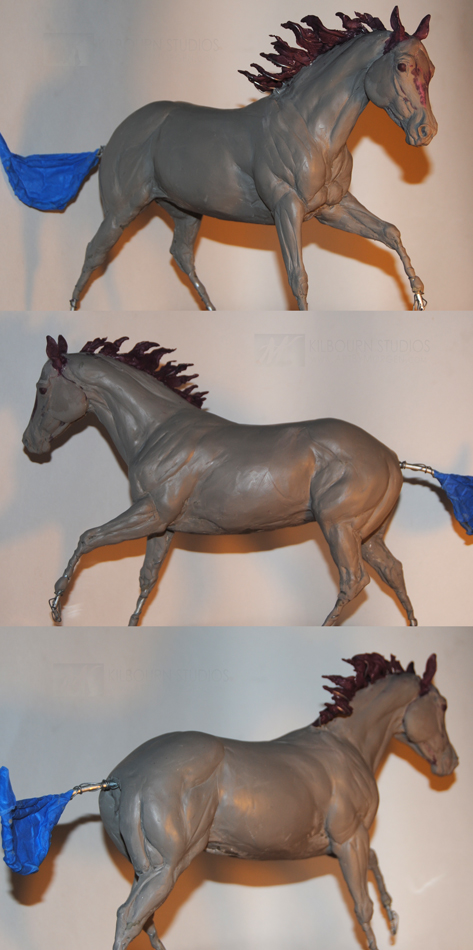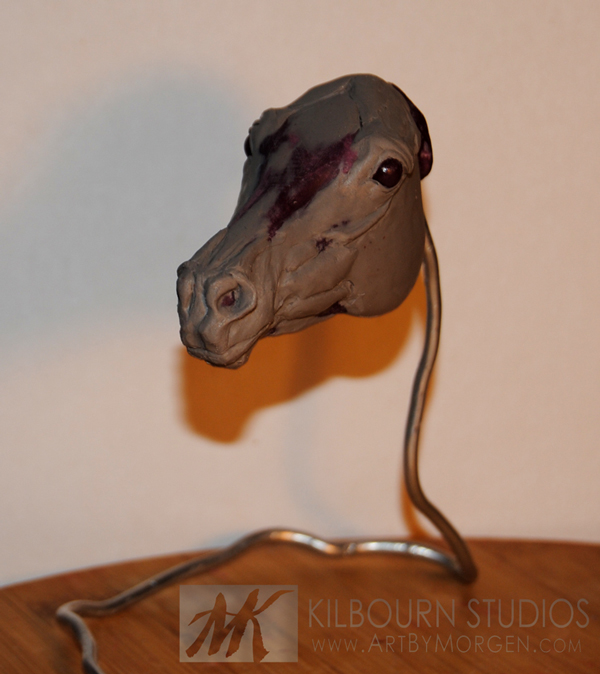 This gal has really inspired me and started rolling out literally right after Breyerfest 2014. I had the idea some time ago but have been rather busy so wasn't able to start until then. In fact I started in a way that's a little unusal for me; head first! Anyhow, I also have decided to try a novel approach & document ( a bit anyhow) the stages. I don't have a go pro and am using my cell phone so the videos probably won't be working ones but we'll see. :) I've got so many references, working cattle, roping, field work of all types.. I don't have a better name for her yet than "Ranch Mare" although I also thought of "Rodeo Mare" because so many of my favorite references are of the flag bearers in the beginning (then there aren't typically cows in the way!) ;) Anyhow, here's the start of the video series (plural I hope soon!);
1:9 Ranch Mare Sculpture - the very beginning!
Part II Sculpting a Ranch Mare
Part III Sculpting a Ranch Mare
Part IV(a) Sculpting the Ranch Mare (update)
Part IV(b) Sculpting the Ranch Mare (measuring anatomy)
Part IV(c) Sculpting the Ranch Mare (anatomy & references)
Part V Sculpting the Ranch Mare (making a 2nd version!)
---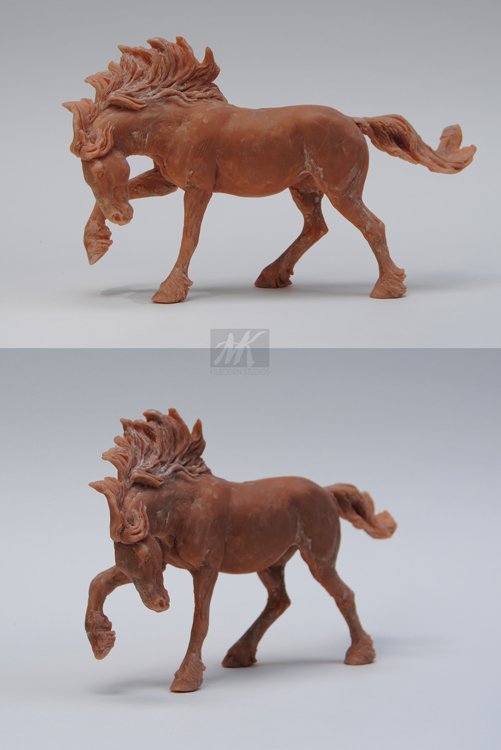 This fellow is literally only a couple of hours old here -> I needed to test the capabilities of the sculpting kit used to teach the beginner workshops at Breyerfest (where we only have 2hrs Blog post from 2011 where you can read about me creating him to test the scultping kit is here: http://mksculpt.blogspot.com/2011/05/preparing-for-fun-all-ages-workshop.html ). & He's still not much more than 2hrs in - 3years later..!!

Buuuuuuuuuuuut unfortunately he's starting to develop cracks so I need to wrap him up & cast. I pull him out for my workshop every year at Breyerfest and noticed this year he's starting to crumble... there may be a small pebbles scale Vanner in my near future!
---
This is an old project that recently found new life in my studio when I placed the headless fellow (at the time) beside one that was also scraped some six or seven years ago. At the time I had decided both were getting too large. Now I feel it might be nice to go from working on my three inch tall liberty Andalusian to working on this large fellow! So he may actually be next. I've been itching to do more details on a larger scale and this simply isn't possible after they get so small. Anyhow, here he is as of Dec 13th, 2013. I've obviously photoshopped to show the hair & my final "vision" but all I did was add hair & a base here.. (and sorta hide the post he's on for now).

I think this comparison above is the easiest way to show how completely different this new guy, Quartermeister is from his derived sculpt Deputed Duke... for now anyhow!
I recast/resectioned/resculpted Quartermeister's head. It's bigger & even the bones are at different angles more appropriate to a warmblood with draft influence. But even here you can see at the base of the neck how much BIGGER this bad boy is! It's taken me almost a decade to work him out but I'm really pretty pleased finally at his entirely different character!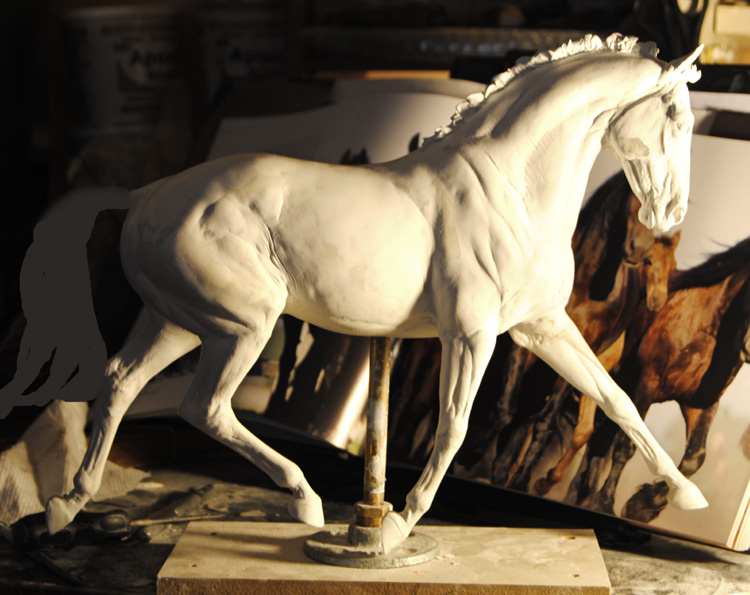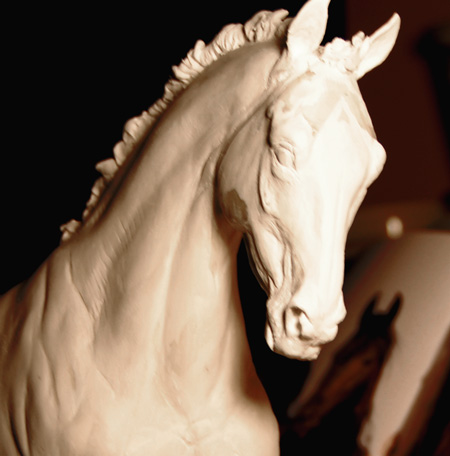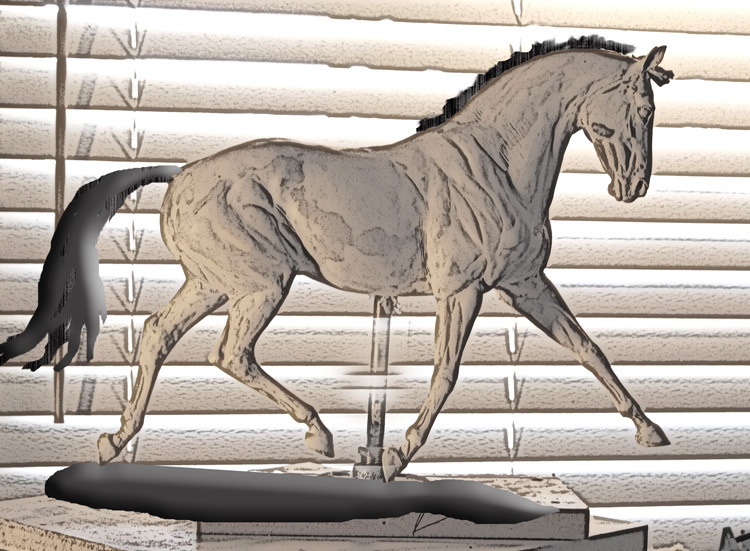 Something new I haven't shared yet is this bust of a Hunter type horse. This one was started as part of a demonstration but is finding a life of her own.. so many things might change about her still!
~ 3 inches tall -- Inspired by mules I photographed a few years ago at the Benson Mule Days parade. Also not too far off from being completed at this point as well!
Really there isn't much more to explain about this fun guy except that he's probably destined to be earthbound by a base of long grass reaching his feet. I've been wanting to sculpt a dog forever now. I cheated some on the armature & reused my squat little minature horse "Kipling" body (the clay gets destroyed in demolding). Anyhow, but you can see I had to lengthen the limbs and add a tail. That's a gallon milk jug top (lip cut away) to give an idea of size. Too fun!
There is a blog post and several comments following it that explain this guy so much better (click here)