The DEPUTED DUKE sculpture in Fine Bone China
Dressage stallion in half pass
Sculpture by Morgen Kilbourn ~ Finish designs by Thomas Bainbridge
Produced by Alchemy Ceramics for Bainbridge Fine Bone China
Limited Edition of 50 Pieces
PRICE:

Payment forms accepted are PayPal (credit cards thru PayPal), money orders and personal checks.
---------------------------------------------------------------------
Chestnut Sabino $975.00 ppd
Payment plan A: Payment in full $975.00
$243.75 balance 4th month
---------------------------------------------------------------------
Leopard Appaloosa $1075.00 ppd
Payment plan A - payment in full $1,075.00
plan C: $268.75 deposit
$268.75 balance 4th month
---------------------------------------------------------------------
Rosegrey Tobiano $1,175.00 ppd
Payment plan A - payment in full $1,175.00
plan C: $293.75 deposit
$293.75 balance 4th month
---------------------------------------------------------------------
100% satisfaction guarantee. Price includes shipping to USA, inspection, form fitted aluminum case, certificate of authenticity, and re-shipping to buyer. (Each piece will be inspected by myself prior to forward shipping for accuracy of color, detail and molding.)
*Please remember that each piece is made by hand via multiple firings. Pieces will be completed in order of payment in full. Please allow up to 3 months following final payment for finishing, shipping, inspection and reshipping your order. (This labor intensive decoration takes time and therefore please be prepared for *possible* delays in completion). Your patience will result in a superior end product.
ORDERING:
Orders will be taken only when color samples are done and available for inspection. First come, first selection. 25% deposit with balance due in equal monthly installments. Order through Tom by email at bainbridge@jackpine.com, ( please allow at least 24hrs for confirmation of availability), specify color and finish choices as well as payment plan method. Or send information to:
Thomas Bainbridge
7393 Chief Road
Kaleva, MI 49645
U.S.A
231.889.0879
Satisfaction guaranteed!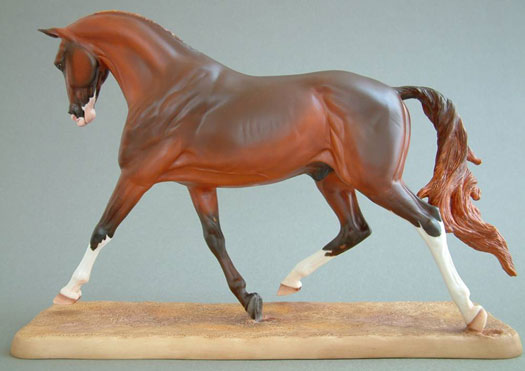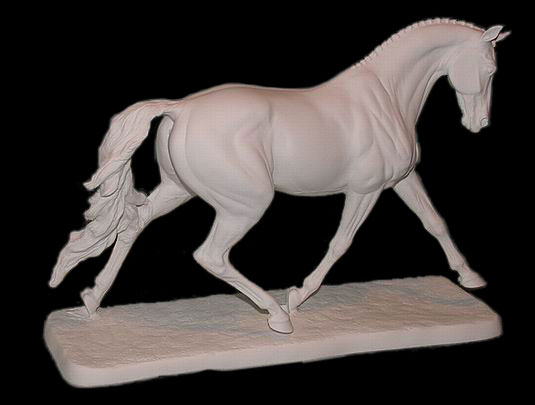 SIZE:
Approximately 8-1/2" tall (Traditional scale). While only technically an inch shorter in height, somehow the china version of this sculpture is quite a bit smaller than the resin version, see comparison of china bisque and a painted resin below. The details captured by Alchemy are exsquisite!